| | | | |
| --- | --- | --- | --- |
| | Department of Physics | | AstroLab |
---
Asteroid Light Curve
The smaller asteroids in the Solar System are known to be non-spherical and rotating with periods in the range of a few hours to several days. As the asteroid rotates, as seen from the Earth, the observed cross-section changes causing the observed brightness to change.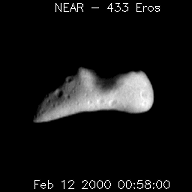 The aim of the project is to measure the brightness variation of an asteroid in order to determine its rotation period. An example of the type of result that can be achieved is shown below.
This V-band light curve was derived from 256 60-sec exposures taken over a six hour period on 2004 March 14 of the asteroid (129) Antigone. The data has been folded about the known period of 0.20655 days
A moderately bright asteroid with a known short period (typically about 4 to 5 hours) that is well placed during the term can be targeted. The data taken on each night can be merged using the supplied "fast_solve" routine that effectively uses phase dispersion minimisation to find the period and to determine the run zero-point offsets. The amplitude range can be used to derive some basic shape information about the asteroid.
Previous studied asteroids for this project include
Term
Asteroid
RA Dec
Vmag
2002 Michaelmas
19 Eunomia
22 40.0 +09 37
8.8
2003 Michaelmas
174 Phaedra
23 46.7 +11 51
13.3
2004 Epiphany
129 Antigone
07 22.9 +17 19
11.8
2004 Michaelmas
849 Ara
21 42.3 +07 22
13.1
2004 Michaelmas
852 Wladilena
02 34.6 +28 15
12.6
2005 Epiphany
216 Kleopatra
07 42.7 +03 10
11.3
2005 Epiphany
762 Pulcova
05 47.0 +29 41
13.3
2005 Michaelmas
43 Ariadne
01 39.8 +15 20
10.9
2005 Michaelmas
686 Gersuind
23 43.8 +18 10
12.6
2006 Epiphany
16 Psyche
04 40.9 +19 02
10.9
2006 Epiphany
79 Eurynome
08 39.0 +10 48
11.0
2006 Michaelmas
337 Devosa
23 43.3 +03 28
12.4
2006 Michaelmas
54 Alexandra
03 13.0 +36 13
11.8
2006 Michaelmas
132 Aethra
01 25.0 +35 46
13.4
2007 Epiphany
44 Nysa
06 06.2 +21 43
9.9
2007 Epiphany
87 Sylvia
07 43.1 +31 56
12.7
2007 Michaelmas
584 Semiramis
03 26.1 +36 23
10.7
2008 Michaelmas
216 Kleopatra
23 09.7 +01 23
11.1
2009 Epiphany
129 Antigone
08 09.1 +18 20
11.6
2009 Michaelmas
762 Pulcova
01 56.3 +01 56
12.9
2010 Michaelmas
725 Amanda
01:33.4 +05:11
14.1
2010 Michaelmas
132 Aethra
00:00.7 +32:17
14.1
2011 Epiphany
55 Pandora
06:17.9 +32:35
12.5
2012 Michaelmas
771 Libera
&nbsp
2012 Michaelmas
963 Iduberga
2013 Michaelmas
174 Phaedra
2014 Epiphany
125 Liberatrix
2014 Epiphany
1333 Cevenola
2014 Epiphany
337 Devosa
2014 Michaelmas
132 Aethra
2014 Michaelmas
1103 Sequonia
2015 Michaelmas
852 Wladilena
2015 Michaelmas
939 Isberga
2016 Epiphany
416 Vaticana
2016 Epiphany
423 Diotima
---
Project Details Project References
---